Hudson Valley School of Paintings
Frederic Edwin Church will forever be associated with the Hudson River Valley, where he painted and made his home; he is also known as a leading painter of the Hudson River School, often called the first truly American style of painting. Thomas Cole, Frederic Church's teacher and mentor, is acknowledged as the progenitor of the Hudson River School. The school was not an academic institution but rather a loose association of painters who worked in a similar style. They were colleagues, friends, and supporters of each other, often traveling together in search of landscapes to sketch. They also exhibited together, especially at the National Academy of Design in New York City, and their paintings were issued as prints, so their images reached wide audiences throughout the rapidly-growing population of America.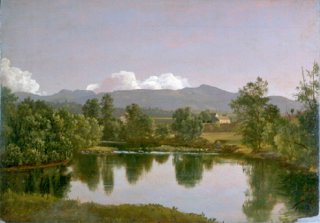 "The Catskill Creek, " by Frederic Edwin Church, July-August, 1845, oil on beveled pine panel, 11 7/8 x 16 inches, Olana State Historic Site, OL.1980.1873
The Hudson River School flourished between the mid-1830s and the mid-1870s. Its subject matter is often landscapes from the Hudson River Valley, the Catskills, the Adirondacks, the White Mountains of New Hampshire and the coast of New England. An early canvas by Church that now hangs at Olana depicts Catskill Creek, a popular site for painters. As the country expanded to the West, the Hudson River School artists followed. Some painted Yosemite, Yellowstone, the plains of Nebraska, and other Western scenes. Others headed to South and Central America, painting lush tropical scenes. A number of Hudson River School painters traveled to Europe, the Middle East and even further afield. Paintings of the Hudson River School are characterized by fidelity to nature; clarity of detail; skies sometimes glowing at sunrise or sunset, sometimes shining a sunny, clear blue; nearly invisible brushstrokes; an overall feeling of tranquility. The Hudson River School canvases present the American landscape as a new Eden in a benevolent universe, blessed by God and providing an uplifting moral influence. The most prominent artists working in this genre include Frederic Church, Albert Bierstadt, Asher Brown Durand, John Frederick Kensett, Jasper Cropsey, Thomas Worthington Whittredge and Sanford Robinson Gifford. The popularity of the Hudson River School landscapes began to fade by the 1870s. More introverted, poetic styles of landscape painting came to fore, including Tonalism and eventually American Impressionism; these styles emphasized looser brushwork, higher color and evocative, allusive subject matter. By the early twentieth century, earlier landscapes appeared bombastic and hopelessly dated. The term "Hudson River School" originated, in fact, as a disparaging label applied to the old-fashioned style of painting. It was only in the 1960s and 1970s that paintings by Church, Bierstadt, Gifford and their contemporaries began to be admired again, and the term Hudson River School was used as praise. Today Hudson River School paintings command respect all over the world.
YOU MIGHT ALSO LIKE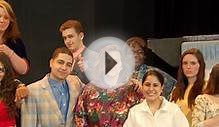 High School Musical - Hudson Valley Edition (Continued)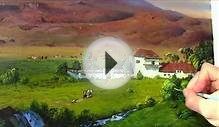 Hudson River School Paintings- Frederic Church Cotopaxi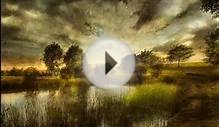 The Hudson River School of Art Various Beautiful Paintings
Share this Post
Related posts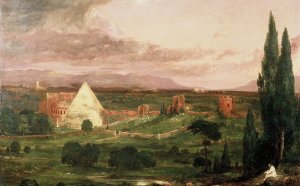 DECEMBER 02, 2023
CBS News Now for Something Old and Something New: Two grand homes from another time are currently hosting artworks that are…
Read More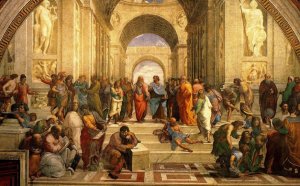 DECEMBER 02, 2023
Site Search Born in 1386 sculptor of his age, and had worked in the studio of Lorenzo Ghiberti. In his early years he worked…
Read More