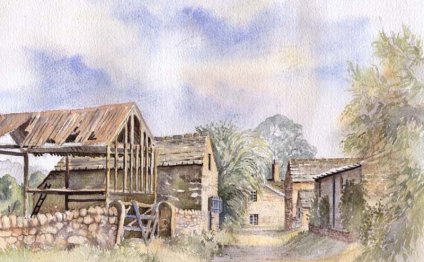 Watercolour painting holidays UK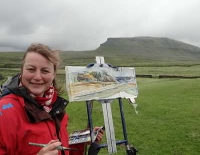 Kate's 2015 Courses
Kate Bentley S.W.A. A.R.S.B.A. is a professional, award-winning artist and tutor, with broad experience of teaching.
She regularly demonstrates and/or teaches in adult education for art societies and on private courses.
She has worked for painting holiday specialists Authentic Adventures, Solo Holidays and P&O Cruises .
For a short film on Kate painting in the landscape filmed by Granada Tv this summer copy and paste this link
Known to be generous with her knowledge and pleased to be able to pass on her skills, Kate looks forward to enhancing your whole learning experience with a relaxing but informative course.
You can read one of Kate magazine articles on painting trees here [part 1] and here [part 2].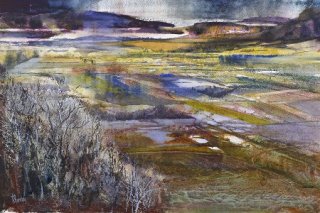 Please make contact through my 'contact' page if you would like to be on my mailing list for 2016 dates.
2016
*2016 Dates *
*Fri 29th& Sat 30th April*-3 places remaining as of 2/02/16
Fast and Loose -Creating Expressive Seascapes and Landscapes -3 places remaining
Dynamic mark making and layering techniques using Watercolours and mono print
• A fantastic opportunity for those of you who want to loosen up, learn new skills and want to absorb yourself for 2 days in a creative environment.
• Wildly pushing the boundaries of conventional watercolours this course isn't for the tentative or illustrative types. This course is all about materials, texture, layering, being bold, being experimental and most of all people willing to move out of their comfort zone. Mark-making, surface texture and basic mono type printing techniques will be a significant part of this course.
• Your aim for the end of the course…less on the lines of finished paintings, more on the lines of a scrap book full of ideas and paintings in progress.
• We will be using landscape/seascapes as our starting point for subject matter, you will be encouraged to use reference material of your own choice on the second day. Suitable for those at Improvers level and beyond and those who are willing to take risks!
• £185 for 2 day courses which includes 2 lunches & refreshments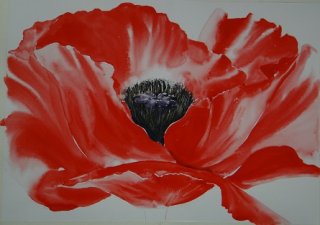 Fri 3rd & Sat 4th June.NOTE DATE CHANGE
Expressive, Bold, Bright and Beautiful-Flowers –Watercolours
Beginners and Improvers level
2 day workshop
This 2 day workshop is designed for those who already have a little experience in watercolour painting but would love to know more and require encouragement and guidance to progress.
Often seen as a difficult and wishy-washy medium, Kate will, through a series of demonstrations and follow-me type exercises, offer tips to help you grasp the basics painting flowers. The course will initially concentrate on flower shapes and composition.
This will be followed up with extensive information and demonstrations on how to get to grips with using bold and bright colours without creating mud .You will be encouraged to work in a looser style and will be instructed how to use watercolour expressively.
£175 for 2 day courses which includes 2 lunches & refreshments
Private tuition and tutorials
Tutorials- two to one tuition
(If you dont know anyone who would like to attend with you I often can marry 2 separate individuals who are interested in attending but want to share the cost and dont want one to one tuition.Please register your interest in the first instance).

People use the day differently, but mainly it falls into 2 categories
For people who require individual tuition over a problem area e.g wanting to loosen up or getting to grips with a certain technique/drawing skills/colour mixing etc.
or
students/ advanced artists who want help with a selection of unfinished/disastrous/problem paintings, with the view that they are assessing where they want their work to go and analyzing their weak points.This also attracts people who dont like working in large groups or who feel intimidated by more able students.
The cost is £120 each and are held in my studio in Brigsteer.
My next shared tutorial date is Mon 25th April.
Private Tuition
I also offer private tuition for individuals .
These can be tailored to your requirements. I offer tuition in watercolours, drawing skills, acrylics and oils.
Please register your interest in the first instance by using the contact form or by ringing me.
As a guide my rates are £200 for 1-to-1 for a day's tuition in my studio.
Fabulous Workshop Venue
Newly built, eco-friendly, bright and spacious
Brigsteer Village Hall,
Brigsteer, Nr Kendal, Cumbria.LA8 8AL
All courses are run at this venue unless stated otherwise.
Courses commence at 10am and finish at 4pm.
Materials can be hired.
How to Book
First make contact with Kate for courses to ensure there is a vacancy.
YOU MIGHT ALSO LIKE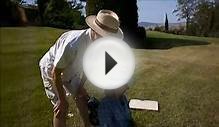 Painting Holiday in Tuscany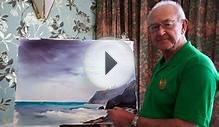 Painting Holidays in Torquay with Arnold Lowrey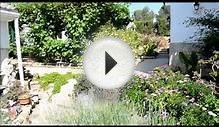 Painting holidays Spain
Share this Post
Related posts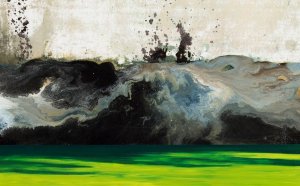 MAY 29, 2022
David and Jenny offer a brand new overseas destination in Croatia. A superb opportunity to receive tuition in the media of…
Read More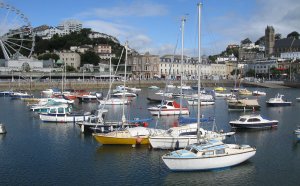 MAY 29, 2022
Painting Holidays Devon UK | Painting courses in the stunning
Read More