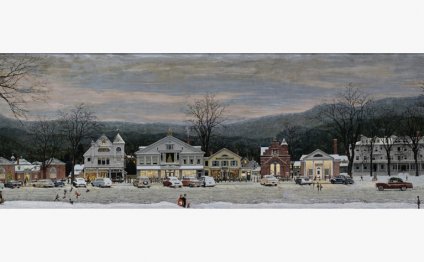 Norman Rockwell Holiday Paintings
During his lifetime, Norman Rockwell created more than 4, 000 paintings and illustrations, including 321 covers for The Saturday Evening Post. His iconic works defined the nation's identity for a generation with a folkloric brand of imagery that was tender but never schmaltzy, playful but always reverent. The paintings may look dated today, but the themes they explore and sentiments they express are timeless.
Many of those paintings started as a photograph, each of which reveals the same masterful attention to detail as Rockwell's iconic artwork. He took thousands of reference pictures over the years, meticulously composing and framing his scenes long before popping open a tube of paint. The images, many of which are featured in the online archive ProjectNORMAN, offer more than a fascinating look into his artistic process. They are a rich catalog of Rockwellian art in their own right.
"Rockwell's photographs are immediately recognizable as authentic Rockwell images, " says Ron Schick, author of . "They are unmistakable for their careful staging and composition, as well as his models' distinctly 'Rockwellian' expressions."
The painter began using photography in the 1930s. He was the kind of artist who had to constantly see what he was sketching, but his models often could not hold their poses as long as he required. A camera allowed him to freeze their exaggerated movements and expressive faces for reference later. It gave his work a sense of vitality, his characters straddling the line between reality and fiction.
Rockwell approached each photograph like a director would a film. He bought costumes and props and also personally chose people in various New England towns—mainly Arlington, Vermont and Stockbridge, Massachusetts—to be his models. He favored "human-looking humans" like Dan Walsh, the pot-bellied postman who played Santa in, and Scott Ingram, the wide-eyed boy who finds a Santa suit in his father's dresser in The Discovery.
The painter went to great lengths to find just the right model, prop or location. For Santa's Helper, Rockwell traveled more than 800 miles to Chicago to shoot at Marshall Field, the renowned upscale department store. Though the company supplied Rockwell with numerous toys and even a clerk to photograph, he bought his own toys and spent weeks looking for a model who more closely fit his vision of the scene. He chose Sophie Aumand, a waitress from Springfield, Massachusetts, to represent exhausted holiday clerks everywhere. The painting appeared on the cover of the Post in December 1947. "Rockwell was not an impulsive artist—every detail was fastidiously planned and re-planned, " Schick says.
Rockwell shot his photos on location or in a studio, against a neutral screen. He acted the scenes out so the models knew what he wanted, and coached them from the sidelines, occasionally stepping in to refine a pose. He never actually dealt with lighting or clicked the shutter, leaving that to a hired hand. "I have never taken my own photographs, " Rockwell wrote in his autobiography My Adventures as an Illustrator. "I never worry about lighting, focus, exposures, or anything but the feeling I want the model to convey. That's trouble enough."
After the shoot, Rockwell made a charcoal sketch from the photograph, refining the composition. These drawings rarely reflected a single photo; he often mixed and matched bits and pieces from as many as 100 photos before painting. He also liked to play with lines and curves—pinching noses and exaggerating bellies—to get that extra bit of mischief and magic.
Over time, Rockwell's work came to reflect, and then define, an idealized vision of American life, particularly during the holidays. He illustrated iconic mythologies—Santa preparing his reindeer for flight, seemingly perfect families decorating their Christmas tree. And he also gave us more realistic scenes—a tired clerk in the toy department on Christmas Eve, and a flustered boy discovering Santa isn't real. His oeuvre included 29 Christmas-themed covers for the Saturday Evening Post and many holiday cards and ads.
His photos, though less famous, are no less remarkable. Like Jeff Wall or Gregory Crewdson, Rockwell told stories by orchestrating every detail in the frame. They are works of art in their own right, and worthy of the same admiration.
Share this Post
Related posts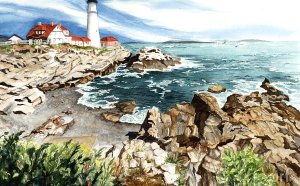 DECEMBER 02, 2023
Even before the Farnsworth Art Museum opened its doors on August 15, 1948, it had already set a goal to build a collection…
Read More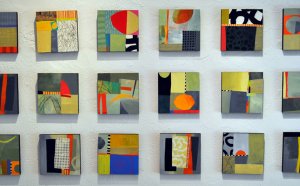 DECEMBER 02, 2023
This is a five-day workshop. In this workshop we explore the idea that working in series is a process. Whether the resulting…
Read More