Alien Workshop Art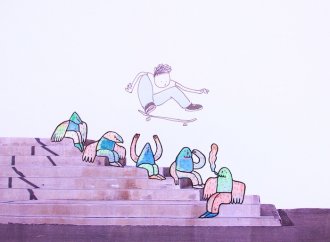 All images courtesy the artist
Monsters poking their arms through Tyler the Creator's skull, staring at bent-over women, or celebrating a skate trick in playful pastels, are the French artist Lucas Beaufort's trademark. Known as "that guy who paints on old skate magazines, " he's spent as much time studying these images, as he does riffing on them and adding new dimensions to them. Skate brands took notice and Beaufort developed collaborations with Filament and other companies.
Beaufort started skating in the 90s, when information was sparse in skateboarding, save a few magazines and what trickled over to Cannes from the US. Later, 411VM would change this, providing global insight to skating through a video magazine. Beaufort savored every page of every magazine and the snaps and cracks captured on VHS cassettes. But for Beaufort, the impulse wasn't to horde or coddle his magazines and videos, they instead became the actual foundation of his creativity—the canvas he started to work on.
Expanding on someone's art is tricky, even dangerous in a medium such as graffiti, where going over someone's work could result in physical altercations. So, you could assume that painting on someone's photograph would be, well… sketchy. But the fiber of skateboarding is bringing your personality, your creative impulse, to a setting—any setting. In that sense, Beaufort simply shows up to the spot and expresses himself with cartoon monsters, not 7-plies, urethane, and aluminium.
The Creators Project caught up with Beaufort about his upcoming collaborative art show The LB Project headed to New York and the impact skate culture has on so many aspects of his aesthetics and values:
The Creators Project: There's an obvious playfulness in your work. What informed your eye early on?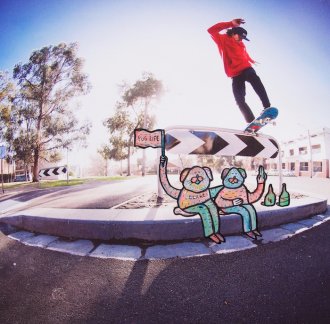 Lucas Beaufort: I would say my mum. She was always painting in front of me when I was a kid. It was mostly landscapes of mountains, sea, boats. She always pushed me to play music, to paint or to create something. Even if I'm not crazy about her art, I think that she gave me a taste of being open minded.
What is it about skateboarding and or skaters making their own art that speaks to you?
There are so many! I love what Jacob Ovgren is doing, his world is pretty gnarly and really funny. I also love Kyle Platts, Sam Taylor, and Henry Jones. All of them have a unique approach to their art. Alien Workshop's art direction kept my eyes open in the '90s and today I think that Polar is doing a great job.
The Alien Workshop's aesthetic is so recognizable. What drew you to it?
I've always been interested by UFOs and aliens. When I was 8 years old, I was convinced I saw one in my grandparents' house and it became an obsession until I turned 12. When I started to skate, I discovered Alien Workshop and it reminded me of my childhood. I only bought boards from Alien because of the graphics. Since I turned 18, I felt completely free from all the 'alien' vibes.
Brands like Magenta or Polar have become popular because their aesthetic is more indicative of skating's creativity. How do you see the connection between art and skating?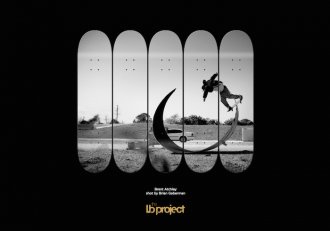 Skateboarding in Europe is getting better and better every single day. You mention Magenta and Polar, but Isle and Palace are on fire, too. The people behind each brand are true to this since the beginning and people know that. If you cheat or if you treat your audience as stupid kids, you'll fail pretty quickly. The connection between art and skating has always existed and it was the reason why I started to do it. When I entered a skate shop for the first time, I didn't know anything about it. The guy of the shop asked me which board I wanted, so I bought a deck just for the graphic, not for the brand.
We all start by trying to recreate things, whether it's a style of painting or the way someone does a trick. When did you feel like you came up with your artistic style?
When I started to paint on The Skateboard Mag four years ago, I didn't know where I was going—I was experimenting with no particular goal. When I start painting on a photograph, I need to feel it first. Sometimes the photo is amazing, but I don't know what to do with it. I feel like there's no need to add anything, the balance is already perfect. By painting my little monsters on a photo, I imagine myself being part of this special moment with the skater and the photographer. It's weird but when I paint on it I feel like I am the monsters so it's like painting myself in the photograph.
I launched the first edition in Europe (Berlin, Copenhagen, Barcelona, Paris, Amsterdam, London) in 2014. My main goal was to bring artists, stores, media, and brands together to support Skateistan. The American edition just started. We decided to make it different by bringing photographers and artists together for a unique collaboration.
What will we be seeing in NYC?
It's a secret, but I can give you the line-up: Aaron Smith, Ben Colen, Brian Gaberman, David Broach, Sam Muller, Dave Swift, Jon Coulthard, Marcel Veldman, Jake Darwen and Ryan Allan and artists, Jacob Ovgren, Jimbo Phillips, Jamie Browne, Kyle Platts, Ricardo Cavolo, Sam Taylor, Meka, Mike Murdock, Mr Penfold, and myself.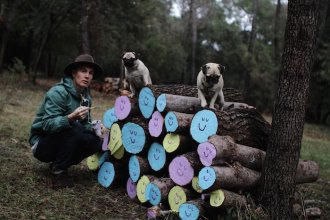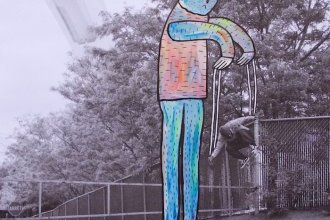 YOU MIGHT ALSO LIKE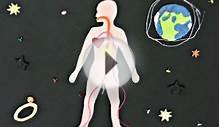 Art Technology Days - AATTAnimation - day 2 - workshop 3 ...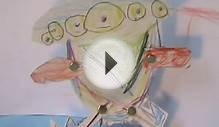 Aliens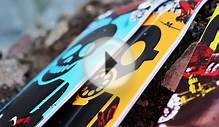 Real Art & Alien Workshop 2012 Apocalypse Series ...
Share this Post
Related posts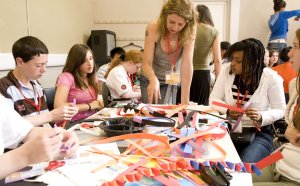 DECEMBER 02, 2023
Our hands-on art classes are taught by artist-teachers, and frequently inspired by art on view in the Gallery. We teach…
Read More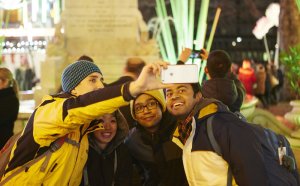 DECEMBER 02, 2023
The Gamasutra Job Board is the most diverse, active and established board of its kind for the video game industry! Location:…
Read More